Capt. Andy's Oceanfront Bar & Grill – Oceanfront Entertainment on the Outer Banks
Looking for a place to have some fun? Usually, you would look for bars or restaurants that cater drinking beverages. If you live in a city and stay there because of your work, you go to bars that are just around the area. Don't you get tired of being in a closed space? Or, don't you get annoyed with the city air you breathe? Instead of having fun, you may just find these city bars noisy and confining. When you take a break from work, you will need a diversion from your routine.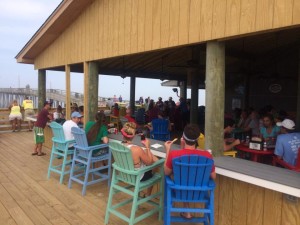 What better way to spend your time off in open air spaces and enjoy places that are close to the nature. You may scout for bars that are situated in the area that are still green or you may just go to blue places such as open sea bars. One of the most popular places that people go when they need a fresh environment is the Capt. Andy's Oceanfront Bar and Grill. With its refreshing location and great offerings, this must be the place you are looking for.
Whenever you want to spend your time to be entertained, Capt. Andy's Oceanfront Bar and Grill is at your service. The bar is actually an expansion of the welcoming dining area of the Pier House Restaurant. With the services offered at this restaurant, the same is provided at the Capt. Andy's Oceanfront Bar and Grill. You will not just get refreshed from your confinement in the city but you will also receive an oceanfront entertainment on the Outer Banks of North Carolina.
Come and invigorate your spirit at Capt. Andy's Oceanfront Bar and Grill. Have some fun under the tanning heat of the sun and enjoy the tropical experience here at Nags Head Pier House Restaurant. We have a cold beer to cool off and have a hearty lunch complete with fresh seafood. Capt. Andy's Oceanfront Bar and Grill also follows the theme of the famous Tiki. The exotic fun that you will get from this oceanfront will help you get rejuvenated from any kind of stress.
Capt. Andy's Oceanfront Bar and Grill also offers a wide variety of foods in their menu to cater your needs. This tropical bar and grill is complete with the meals of the day that you may come and go whenever you like. Experience the great dining cuisines that are fresh from the sea. Our cool services also include cool appetizers to induce your appetite and while you contemplate on how good your food is, look out and be calmed with the wide blue waters of the ocean.
Capt. Andy's Oceanfront Bar and Grill is one of the most exciting places for locals and visitors alike. It has garnered very positive feedbacks from our customers. Whether you want to try our services and feel the great experience of dining or you want to feel the cool ocean breeze on your skin, Capt. Andy's Oceanfront Bar and Grill is here for you. The exotic tiki theme may also influence your love life or you might just like to explore what the tiki theme bar offers for their drinks. Everything is cool and fun.
Live oceanfront entertainment on the outdoor deck six night a week. We currently have 30 beers on tap and are calling it "Captain Andy's Tower of Power" and it's the biggest selection of beer on the beach. We serve frozen drinks and martinis as well. We'll be running daily specials, make sure you check out our chalkboard.